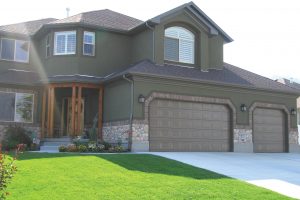 Considering the replacement of your garage doors in Kansas City, Kansas? Perhaps, you want the sectional door panel replaced, a new opener installed, or the old tracks replaced? Then again, you may face a problem, like not being able to close the overhead door. Or a broken spring. Or cables off track. Wouldn't it be great if you had a professional garage door company by your side all these times, ready to assist, ready to offer solutions to your problems? That's us.
We rapidly send techs to fix garage doors in Kansas City
Consider our company your one and only option whenever you deal with some troubles with your Kansas City garage doors. Wouldn't you want the broken cables replaced swiftly? The spring adjusted correctly? The opener inspected and fixed by an expert? To make a long story short, our company makes haste in dispatching techs quickly when there's a problem – any problem, big or small. And the techs arrive as scheduled with the van well-equipped and the skills to troubleshoot and fix garage doors of any brand. So, do tell. Do you need garage doors repair today?
Our garage door company at your disposal for any service
Mobile Garage Door Repair Co Kansas City is a full-service team. We are the company to call for all sorts of repairs on all types of garage doors. Recognized for our mastery in this business, we exceed by far the most demanding expectations. Not only is our team ready to provide solutions to all problems but also prevent troubles with regular maintenance. Or provide solutions to those in search of new garage doors. Getting any garage door repair Kansas City KS service at all is simple. You just make contact with our company.
Time to find new garage doors? Let's talk details
At one point, you will need a garage door replacement. Or you may want new garage door installation. Wouldn't you appreciate the advice of an expert? Wouldn't you want the garage measured by a trained pro? Leave all that to us. Our team offers garage doors in a variety of designs, materials, sizes, styles and also, helps you make a choice.
Let no project cause stress. Let no problem take control of your life. Only a call away and fully prepared to address all local garage door service requests, our company will tackle yours with the utmost care and speed. Care to talk about your project today? Need some repairs at the moment? Have your Kansas City garage doors fixed or replaced without hassle at all by making one call! We can't wait to serve you!